Unleashing Mr. Darcy
by
Teri Wilson
My rating:
5 of 5 stars
I'll confess that I didn't know this book existed until one of my many Austenite fan feeds on Facebook began raving about the news that it was being made into a Hallmark movie. As soon as I heard the clever title, I thought, "Darcy plus dogs - fantastic!"
I'm an avid dog lover myself. Our little Shih Tzu Jojo is the center of our lives... and spoiled rotten because of it. So, that being said, I went into reading
Unleashing Mr. Darcy
with quite the expectations for greatness. To my surprise, I was delighted with what I found!
This is the tail (see what I did there?) that every proper fan of classic literature knows. Boy meets girl, boy insults girl, girl overhears and hates him, boy falls for girl, etc... If you don't know the story of Elizabeth Bennet and Fitzwilliam Darcy by now - GO READ PRIDE AND PREJUDICE. Duh.
This variation leads us to the strange and proper world of dog shows. Having attended a few in my day, I can tell you that the passion is there - and so is the crazy! Teri Wilson captures all the aspects of the avid breeder and handler, from the grooming down to the cuddles. And the cuteness... *sigh*
But I'm sure I'm rambling, so on to the characters. Meet Donovan Darcy, billionaire philanthropist and esteemed dog show judge. At first, I really struggled with the renaming of Darcy. My favorite relative in the world was named Donovan. But he was also my grandfather, so trying to get over the name on my part was a serious struggle - and thus I'll just call him Darcy. Still, as a character, Darcy is everything you expect: reserved, arrogant, proud and charming in his own way. He meets Elizabeth at a time when everything in his life is in an uproar and he has lost his beloved control. And the fireworks are fabulous.
My Donovan Darcy - James Franco (with one of the puppies - maybe Pudding?)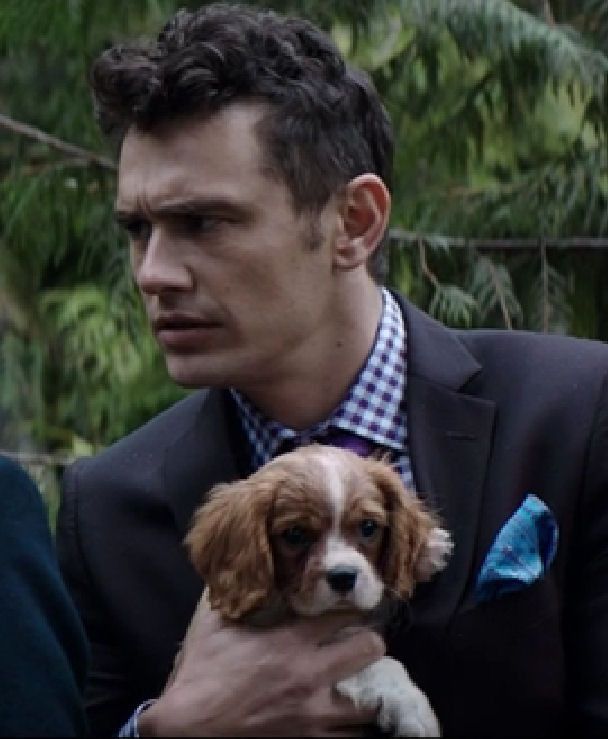 Elizabeth Scott (yes another rename, though I'm still not sure why?) is a private school teacher who is very down on her luck. Having been propositioned (sexually and financially) by a student's father, she is currently suspended without pay from her beloved position. Elizabeth is quick, sarcastic, and a little disorganized in life and personality. She is also unwilling to trust anyone and prejudiced. Frustrated and on her 30th birthday weekend to rub in the salt, she seeks refuge showing her sweet Bliss, a Blenheim King Charles Spaniel. And who would be her judge? *wink*
My Elizabeth Scott - Liv Tyler (with Bliss)
I don't want to spoil the book or the Hallmark film. What I will say is I found this an extremely easy read, with lots of fun, a little angst and tons of puppy love (figuratively and literally). The writing is engaging, the plot unique enough to never spoil easily, and the ending sweet. The setting for most of the novel is London and for an Anglophile such as myself, it was perfect in tone for a love story.
The Hallmark film, which I watched a few days later, was a little harder to watch. I tried to go into it with an open mind, but struggled with some of the main changes they made to obviously stay in budget. Still, the core story is there and it's a chic flick to be sure! Only one comment - Hallmark, please stop with the stupid incidental music on endless repeat.
I highly recommend this novel to any romance lover, dog lover, or Austen lover. It is a fast read and you will not want to put it down until you are done!
Next stop for me... another P&P adaptation.
View all my reviews